You probably want to talk to us if one or more is true:
One hour of downtime costs you thousands of euros in lost sales or reputation
A DDOS attack or data leak due to security incident would have a significant impact on your business operations
Your current hosting provider is unresponsive or under-qualified to properly support you 24/7/365
You have serious compliance needs.
We serve enterprises and startups that demand more.
Since 2004 HyperOps team of systems administrators and infrastructure experts has been supplying complete 24x7x365 critical online systems and applications management services to
financial institutions
,
telecoms
,
airlines
,
internet media and e-commerce businesses
as well as innovative high-growth
startups
in Lithuania and elsewhere in Europe.
Global datacenter coverage
With our HQ situated in the Northern European digital hub of Vilnius, we offer global coverage through our operations in six datacenters in Europe (Amsterdam and Vilnius) and two datacenters in the United States (Washington D.C. and San Francisco).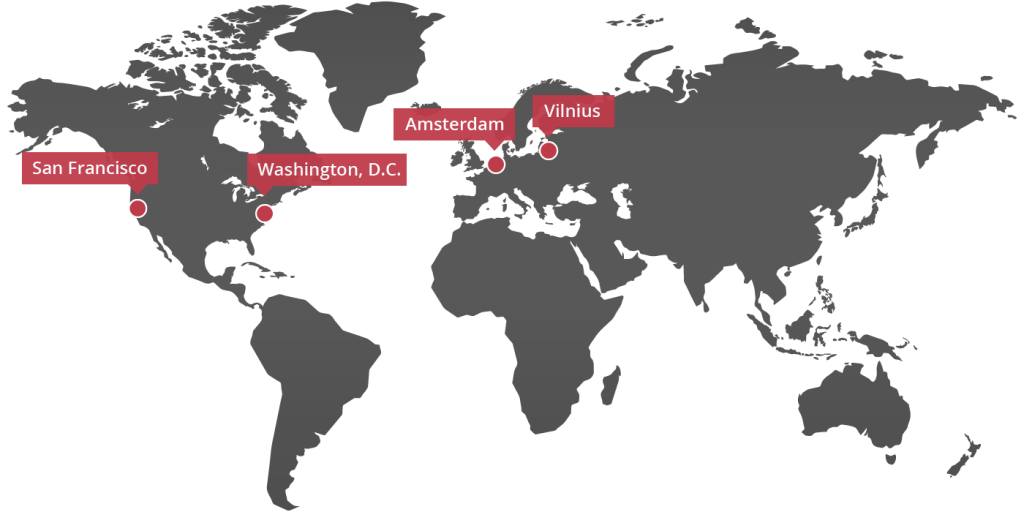 "We are extremely happy with the quality of the services and the high technical standards provided by Metasite HyperOps as well as their responsiveness in the day-to-day business."
"We have been using Metasite HyperOps managed hosting services since 2011. During this period HyperOps has assisted us with all infrastructure related challenges, providing necessary expansion and executing our requests to perfection.Their incident reaction times were almost always under 10 minutes. I can confidently recommend HyperOps to anyone in need of flawless operation of their critical systems. We are very happy with our relationship and the level of services HyperOps provides."
"At Bond Radar we've been using managed hosting and applications support services of Metasite HyperOps since 2007.Our web applications provide time sensitive information to our global financial industry customers and as such they have to meet highest requirements for availability and security at all times.HyperOps has built us several high-availability solutions that delivered exactly this over the years. Their custom Disaster Recovery solution allows us to retain full control over the operation of our systems and provides us with operational immunity to failures of individual datacenters.HyperOps team's technical assistance and knowledge of our business logic is invaluable and their dedication to keeping systems running 24×7 is unmatched."